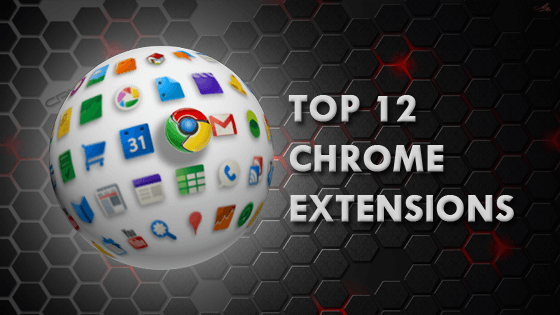 Google Chrome is awesome, you know what's even more awesome? Google Chrome with awesome extensions!! Here's a list of a dozen must-have extensions for your Google Chrome that will make your browsing experience so much easier, that your life will never be the same.
Facebook Ninja Chat

Does the 'seen' message on facebook chat bother you? Do you want to remain 'unseen'?  Do you want to become a ninja? Well, you're just a click away from your dreams. Click the button beside the address bar (when on facebook obviously) and activate the ninja mode. Show them your powers.
Evernote Web

If you use Evernote, you'll love this extension, if you don't, use it, and you'll love this. Save your ideas, inspirations (basically notes), even images and audio, organize them super efficiently, and access them from anywhere, web, pc, mac, ipad, iphone, android? You name it!!
Apk Downloader

As the name suggests, it lets you download apk files for your android device. From? Google Play!! Why would you need it? For your devices that cannot access the playstore, like the kindle fire for example, or when you've run out of phone memory and regular installation says insufficient storage. You'll need to provide a valid android device id and the gmail account associated with it.
Invite All

Looking to spam all your friends with a page invite? But too tired to check the box beside each friend one at a time? Well, some developer people have automated the work for you. Just click the 'select all' button, and voila, you've managed to spam all your friends in a single click. You've made me real proud.
With tons of customization options, including backgrounds, dial styles, dial images, app panels and even custom css support, this is light, fast, and beeeautiiiful. It gives a super-fast and super-easy access to all your bookmarks, and recently closed tabs. For $2 you can get a pro version, which allows you to sync your dials, bookmarks and settings between any device and any browser. I love it. Go ahead, try it. You'll love it too.
Photo Zoom for Facebook

This is one of those extensions that are real popular. With over 2 million users (Although they claim it to be 5) and a rating of 4.9, it's simple, fast, lightweight, and unobtrusive. It becomes an integral part of the Facebook browsing experience.
Google Dictionary

What is a browser without a conveniently accessible dictionary? I have tried quite a few, myself. But the obvious winner was Google Dictionary (by Google). It supports foreign languages, adds a convenient toolbar icon to search in, and the best of all, you can view the meaning of a word just by double clicking it (yes, it's customizable!). The meaning pops up in a neat little bubble. For in depth meanings, there's always the toolbar icon.
Panic Button

Ever wanted to hide all your tabs with a single click, so someone who just popped behind you couldn't see what evil you were doing? Your plans for terrorizing the world with a giant snake, or the blueprints of your rocket ship? Or maybe a blackout, and your UPS has started screaming. And you don't have time to bookmark your tabs? Well you can't just close them altogether. Panic!! Then immediately click on the panic button!! You can restore them later, and even password protect your hidden tabs.
ProxMate
As the developers of this nifty app say, a swiss knife for accessing pages, this proxies pages for you!! Just like that!! Works on Youtube, Pandora, Hulu, Netflix, Google Play, and many more. If you use proxy frequently, why not have it just a click away?
TV Watchlist

My first impression using this extension was, "Okay, not bad, could have been better". After a few days of using it though, "Whoa, damn this good!". As the name says, it helps you keep track of your favorite tv shows, when the next episode will air, what you missed, episode summaries, specials, and more. The database it uses is just HUGE. Regional and international shows, episode guides, time-zone customization, and so much more.
Awesome Screenshot

Awesome as the name, works awesomely! Capture desired area of a webpage, annotate it, blur portions, add arrows, and download it or upload to awesomescreenshot.com or even Google drive, all right within chrome.
Google Chrome to Phone

This is a must-have extension, if you surf extensively on both PC and mobile device. This extension adds a button to Chrome that lets you seamlessly push links, maps, and currently selected text and phone numbers to your Android device.
Check out other great extensions