Following the integration with the global videoconferencing and voice communication service Skype back in May and the launch of the new operating system Windows 8, Windows is giving up its popular 'Windows Live' brand in an effort to combine all its services into a single Microsoft account.
Windows Live, announced in 1st of November 2005, was described as 'a set of personal Internet services and software designed to bring together in one place all of the relationships, information and interests people care about most, with more safety and security features across their PC, devices and the Web'. However, with the approach such as the google's to use a single account for a wide range of web services proving to be more popular, Microsoft is adopting the same in Windows 8, assigning its users a single Microsoft account (formerly known as the Windows Live ID) to sign into both their tablets and PCs. The Hotmail is not a must for a Microsoft account, which is a welcome feature as users can easily activate their Microsoft account using any email addresses.
As the Windows Live nomenclature was used in both softwares and services, many of them are also renamed for the sake of simplicity. In Windows 8, MSN Messenger will become "Messaging App," Windows Contacts will become the "People App," Windows Live Mail and Outlook Express will become the "Mail App," Windows Live Photo Gallery and Windows Live Movie Maker will become the "Photos app, Photo Gallery and Movie Maker," and Windows Calendar will become the "Calendar App." These names will appear on all the devices that run the Windows 8 OS, including the Windows phones and tablets.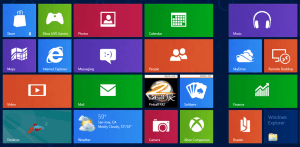 Windows unit head Steven Sinofsky acknowledged in a Cloud services for Windows 8 and Windows Phone earlier that Windows Live failed to meet the expectations of 'a truly connected experience' as was its goal on announcement. With all these changes however, Microsoft is set to extend its cloud computing features to a new level. According to Sinofsky, 'When you connect a device or service to your Microsoft account, you're automatically provisioned with a set of cloud services, including a contact list, calendar, inbox, instant messaging, and cloud storage. Of course these services connect to your PC and your Windows Phone, they're accessible from any web browser, and they're accessible to different apps if the developer of the app implements our API.' This means that if you add information to any of the devices under your Microsoft account, it will automatically show up in every other devices you use simply by logging into your account. Additional features have also been added to skydrive. For instance, a Windows phone is now capable of automatically copying the new photos to the cloud photo album through the integration of skydrive with the phone camera.
The Microsoft account even allows the connection to third party services such as Facebook, Twitter and LinkedIn. So with the cloud-enabled feature and the ability to access the social sites, Microsoft promises to make the information sharing a lot more easier and simpler. This also sets a good platform for Microsoft to make Windows 8 the most dominating OS in coming days following the success of Windows 7.