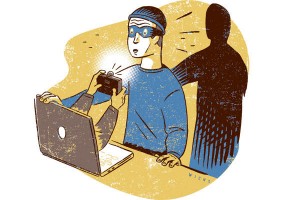 We often hear stories of people who have suffered the pain of losing a gadget. But unless you've personally stepped into their shoes, you don't really know what they are talking about. Every gadget is replaceable, except yours! Our laptops and cell phones are what our lives revolve around, more than anything else. What with the amount of private data we keep in them and the fortune we spent to buy them in the first place, their loss hurts as much as the loss of a loved one. Probably not as much, but you get the picture! But mark my words, what will hurt the most is realizing later that with just a little bit of effort, you could have prevented the whole thing from happening.
I am talking about the tracking software that can be employed on your devices to track down your thief. There are, of course, free and premium services available that you can choose from. However, not all people have the luxury of using premium services, especially in South Asia. So, I've listed some free tracking software with a short description of each. You are free to add your favourites, in case I overlook any, or comment your thoughts on these.
[Yes, these free tracking software are great. However, there's always a chance that your valuable data might be deleted or lost during various situations. So, it's best if you look into these free ways to back up your data online and minimize that chance. As they say, 'better safe than sorry'.]

1. Prey Project:
One of the most useful open-source software I have ever used, Prey has just the right number of features you'd ask for in a free tracking software. You can link as many as 3 devices in a single account, which is more than enough. If you need more, you can always opt for the pro version (or create multiple accounts, whichever you prefer).
Prey gives you report at regular intervals (the lost device has to be connected to an internet network), which includes
–the webcam shot of the thief.
–screenshot of the active screen
–the list of the apps open at the time of interrogation
–GPS location of the device (which was correct to upto 100m range, in my case).
There are a number of other features you can customize as per your needs by logging into your prey project control panel. Here's a video that'll guide you through the whole installation process:

Prey also has an android and iOS equivalent app, making it one of the most versatile tracking software available.
Download Prey for Android via Google Play.
Download Prey for iOS from app store.

2. LaptopLock:
Although it falls under the same category as other free tracking software, it has a different approach to doing things. It is pre-programmed to carry out specific tasks like deleting/encrypting files, execute certain programs and so on, as soon as the device is marked as missing. Like Prey, you can control it online. However, it can only be used in Windows, and it doesn't have a mobile app.
To download LaptopLock, you need to create an account first. Sign up for LaptopLock.
3. FrontDoorSoftware:


It also has a basic and a deluxe version, but the basic version has pretty much everything you'll need, except that the GPS tracking using Google Maps lasts only for the first 90 days. It has some good noticeable features, like customizable texts, with which you have the ability to yell at the thief (or so it says!). Plus it also has the handy remote lock down feature which will prevent the thief from gaining access to your data or making any software changes to your device.
The installation process might seem confusing, and so might some of the features, but this youtube video explains everything that you'll need to know.
There are some excellent premium tracking software as well, though most of them come at a hefty price. I've listed some of them out for you:
1. LoJack
2. GadgetTrak
3. Exo5
4. MyDeviceTracker
5. Laptop Cop
Not losing your gadget is always better than having to track it down. But always remember, 'Better safe than sorry!'