EA Sports announced the release of FIFA 14, the next sensation to the FIFA series, on September 24, 2013. The game is expected to be a huge success because of the implementation of EA Sports' new engine Ignite. The new engine is said to be capable of rendering high quality 3D graphics, implement real-world physics and intelligence, and define the movement of players as if they were running on the real pitch.
The game will be featuring major improvements than the preceding titles. Each player will come into life as the number of animations they performed is increased ten times. All 22 players will calculate their position and situation to get most out of the game. The crowd will be rendered in 3D now and will do their job to encourage the players in the field.
Some notable features to be in the game are
Precision Movement
Players will be in more control of the ball as their momentum and direction will decide if the defender can snatch the ball from them. Each step will determine the next state of the player. Now players can turn and shift their weight to be able to cut corners and control ball like never before.
Protect the Ball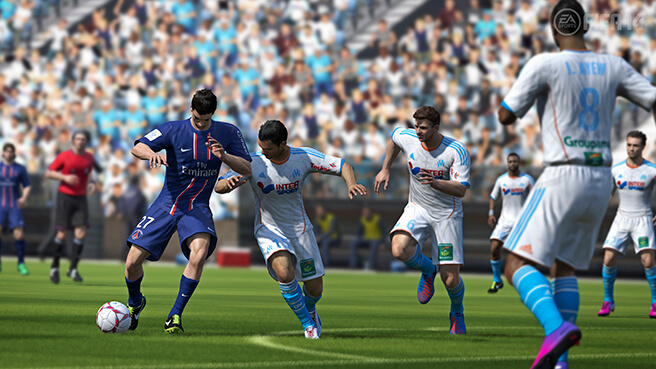 Now you won't have to be a pro to control the ball and keep them off the opposition. The new Protect the Ball feature will allow you to push the defender away from you so that you won't lose possession with some unexpected tackling.
Pure Shot and Real Ball Physics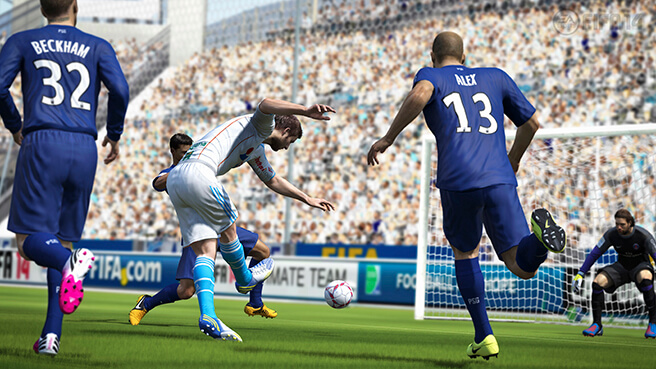 Like I said before, Ignite has the ability to implement real world physics. You can now feel the vibe when you are charging for the net. The ball will follow the real world trajectory, when you direct it towards the goal.
Teammate Intelligence
Most frustrating thing about FIFA was that passes would not be directed where you intended. That's about to change with FIFA 14's Teammate Intelligence. AI players will constantly be looking for free space to open up and run towards it to exploit any chance to tear up the opposition.
Well if you still are not satisfied then check out this brand new trailer